Equipment for rent:
Polar jacket
Polar pants
Harness
Carabiner
Boots
Ice ax
Crampons
Mitons
Gaiter
Head lamp
Sun glasses
Helmet
Facemask
Equipment images: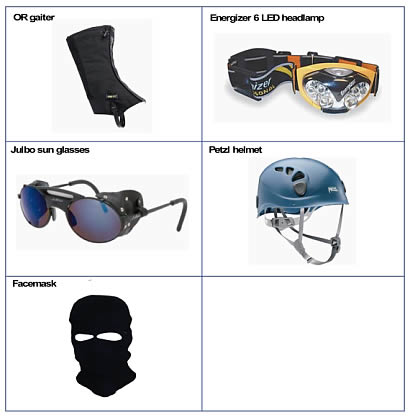 ---
4 DAYS / 2 NIGHTS: ILINIZAS & COTOPAXI:
DAY 1
We will depart Quito at 9:00 am and travel by private transport to 3900 m to a spot called The Virgen where our trek will begin. Bringing all of our gear with us, we will walk for approximately three hours to the refuge center at an altitude of 4600 m. We will have dinner at the refuge center followed by rest.
DAY 2
Beginning our trek at 5:00 am, we will walk for approximately three hours to an altitude of 5150 m, returning to Quito around 1:00 or 2:00 pm.
DAY 3
Leaving Quito at 9:00 am with your guide, we will make our way into the Cotopaxi National Park and up to the refuge center with our gear. After lunch, we will put on the gear and go through a glacier training course with the guide before having dinner and resting until midnight.
DAY 4
Our climb to the summit will begin at approximately 1:00 am and will take five hours to reach the top. The return climb takes approximately two to three hours. Return to Quito around 2 pm.